Our Lady of the Pillar School comprises three interconnected divisions: the Early Childhood Program, the Elementary Grades, and the Middle School.  The school is united through our mission, our integrated curriculum, and our strong school community. We are focused on helping each individual student reach his or her full potential—academically, spiritually, and morally.
Accreditation and Professional Affiliations
Our Lady of the Pillar School is accredited through the Missouri Chapter of the National Federation of Nonpublic School State Accrediting Associations. Our Lady of the Pillar School maintains membership in the National Catholic Education Association (NCEA), and Colleagues in Marianist Education (St. Louis Catholic Marianist Schools).
Founded: 1938
Principal: Dr. Mark Gilligan
Grades: PreK3 through Grade 8
School Day Hours: 7:55 a.m. to 3:10 p.m.
Aftercare Hours: 3:10 p.m. to 5:30 p.m.
Teacher and Student Snapshot
Total Enrollment: 152 students
Students represent 18 different zip codes in the St. Louis area
Student Teacher Ratio: 10:1 overall 15:1 homeroom
Average Class Size: 15 students
11 Homeroom teachers
7 Classroom aides
Full-time Learning Consultant
Music, Spanish, Art, Computer/STEM, PE teachers and Librarian
Facilities
Dedicated classrooms for Art, Spanish, Music, Computer/STEM, PE
Large full-size gymnasium with stage
Smaller secondary gymnasium with stage
Two, secluded playground structures and swings
Grassy field for PE and/or recess
Parish Life Center with meeting space and large commercial kitchen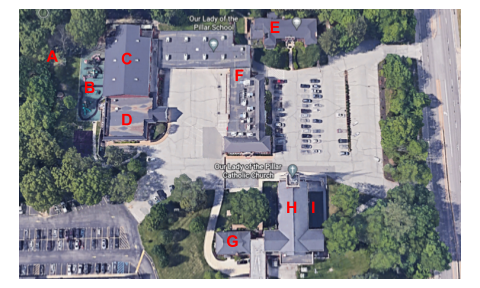 A. Grassy Field
B. Two, secluded playgrounds with swings
C. Full-size Gymnasium with stage
D. Parish Life Center (PLC) with meeting space and full kitchen
E. Priest Residence
F. Main School Building
G. Parish Offices
H. Church
I. Smaller Secondary Gymnasium with stage (below church)