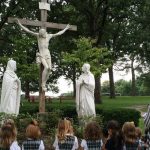 Our Lady of the Pillar is a Marianist parish. We are so proud of our heritage and the way our tries to live out what we say each day "Strong in Faith and Rich in Works."
Please come and pray with us! Come experience our warm Marianist hospitality.
As Catholics, we are called to always be on Mission. Blessed Chaminade said that we were all Missionaries. To be faithful missionaries in our world today, we must work at strengthening our faith so that we can live our faith.